If the time has come for you to buy a new bike you have to prepare yourself for some good old researching. Whether you are an experienced cyclist or a beginner there is a lot to think about before committing to a bike. While the information is readily available on the internet there is just so much of it and so many choices that it is overwhelming at times.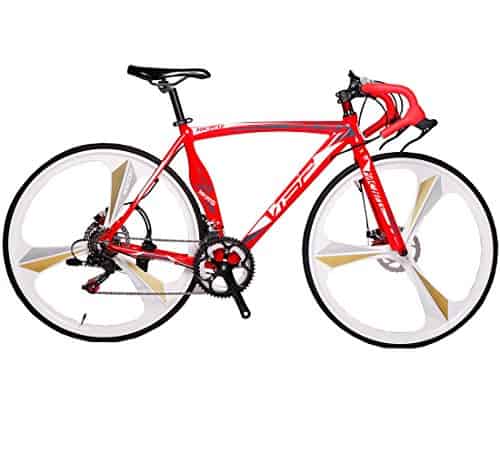 Since you know that you want a road bike this will help narrow the choices considerably. There are several things you will want to consider when buying a new road bike.
The first question is whether you are a beginner cycler or not. This is quite important and your choices will mostly depend on the answer here. That fact is if you do not have a lot of experience in cycling then you don't have a lot of hand-on knowledge that would help guide your decision and base it on road experience.
If this is the case then buy an entry level road bike and do not spend too much money on it. Second hand bikes from reputable manufacturers are also worth a look. Anywhere from $ 500 to $ 700 would be a reasonable price for an entry bike by a good manufacturer. Bikes can be easily upgraded later on if needed (some components) and a year spent cycling will prepare you better for your next purchase.
Consider how you are going to use this bike. If you are planning to compete and train cycling professionally be prepared to spend a lot on a race bike and the assorted equipment. On the other hand, if you cycle recreationally and use the bike for commute as well as day trips and fitness then you will want a road bike that can accommodate your various cycling styles. Look for road bikes that allow you to connect some sort of a saddle on the frame. They do not usually come pre-fitted on road bikes since the manufacturers are hell-bent on making them as light as possible but a saddle could come in handy for city commute. Also, it can be removed easily if you are planning a day long cycling race and want all the speed your bike can muster.
The main difference in road bike types is in the frame geometry. Particular frame geometry will make a road bike either an endurance bike or a performance/race bike. Performance bikes put more strain on your body and are usually used exclusively by racers competing in near-perfect conditions.
Endurance bikes are a bit easier on the rider. Thanks to their higher head tubing and more angled fork they allow you to ride your bike in a less bent position contributing to overall comfort. Also, you will want to consider the materials used. Today you can have your pick of materials used in frame manufacture and they range from aluminum, steel and titanium to carbon fiber. Consider aluminum for your material of choice as it is the lightest one and does not rust. It also costs less than others.
Lastly, consider the wheels and the tires. Narrow tires will not make you go faster, remember that. They will simply make your rides bumpier and more uncomfortable and pose a potential hazard if you run into potholes or bad roads. Get wider wheels fitted with wide tires. Consider 28 or 30 mm for tire width if your frame allows it. These will make your rides smoother, more comfortable and are less likely to go flat or get punctured.
In conclusion, if you are investing serious money into your new bike it would be smart to put it toward reliability, quality of material and manufacture. Don't spend it on exotic materials and lightness if you are not a professional racer. Especially since endurance bikes are more popular than performance bikes even in the professional racing community.