Ever seen the pros at the WordTour fly up the hills and race over bad mountain roads? And you saw those black Mavic rims? Soon you can get your own pair of the Cosmic Ultimate UST rims at the local Mavic dealer. And the best part: They come with the Mavic UST Road Tubeless system.
It's the same superlight full-carbon design that has long been a pro favorite in races all over the world. But now you get it with the added reliability and puncture protection of the UST Road Tubeless system. The wheelset weighs only 1300g. That means you'll fly up the climbs and accelerate like a rocket ship. It's 40mm deep, 25mm wide full-carbon tubular rim profile, 20 super-bladed spokes, and high, thin carbon hub flanges.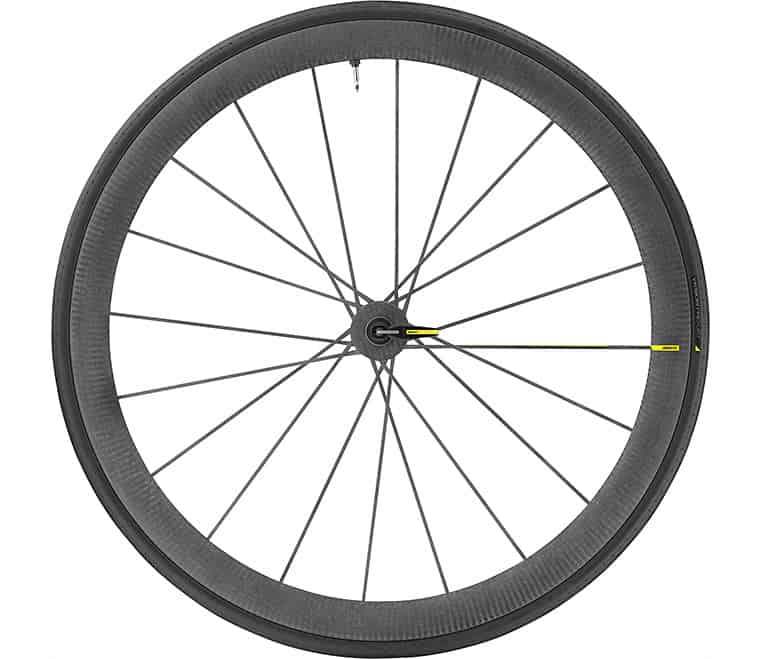 It is ultra-stiff thanks to the unidirectional carbon fiber spokes. These spokes run continuously from one edge of the rim to the other through the hubs creating one single spoke instead of two.
Mavic calls it the R2R technology. This eliminates the need to mechanically attach the spokes to the hub. The rear rim is asymmetrical to improve the drive-side bracing angle. The spoke tension is balanced and the wheel stays stiff under the heaviest lateral loads such as sprints or attacks.
The rim is made of 12k carbon fibers wrapped over a super rigid foam core. Mavics claims its unique iTgMax technology delivers reliable and consistent braking performance in both wet and dry conditions. The UST Road Tubeless setup with integrated Yksion Pro UST tires save about 15% in rolling resistance at equal tire pressure while being super easy to set up, inflate and maintain.
If you want to ride to your local Mavic dealer to get them now – hold your horses! They will be in shops early 2019. Which is good for you since you can start to save right now for them. The price on the Mavic website is at the current exchange rate a bit over 4000 US $.
More information about the Cosmic Ultimate UST.